Today's post is from a fellow author, Eric Swett. He's gonna share a bit about his inspiration and what turned him into a writer. I hope you enjoy.
Six years ago I found myself unemployed for the first time in more than a decade. I worked some odd jobs here and there, but nothing that was anywhere close to full time. I had a lot of free time on my hands so I read through my books about writing and decided it was time to give it another try. You see I had taken a break because of some negative comments I had received about the novel I was working on. I was not feeling particularly confident in my skills at the time and their well-intentioned criticism sent me into a tailspin of doubt, so I gave up.
One of the books (forgive me for not remembering which one) suggested trying to write one-hundred words per day as a way to make sure you are writing every day. I decided to give it a try and wrote EXACTLY one-hundred words every single day. No more. No less. It was a fun little exercise and unbeknownst to me it would turn into my first book, Apocalypse Rising.
Once Apocalypse Rising was out in the world I took a short break before starting work on the next book. I was so pumped up from getting the first book out that I was writing like a man possessed during the second book and had punched out more than sixty-thousand words in the first two months, but then I had to slow down because my wife was pregnant with our little girl and I got busy taking care of her and the baby once the happy day arrived.
I turned forty this year, and I'm not as young as I used to be. Getting up at night to help with the crying baby takes a lot out of you even when you are young. Writing was very low on the priority list for the first year after my daughter was born.
Soon after her first birthday I was offered a new job and I took it. As soon as I was acclimated I started writing again. One of my coworkers did some writing on the side and it got me reinvigorated to have someone I could talk to about it. Before I knew it the first draft was don and the editing began. Six months of editing later and the latest book, Apocalypse in the Balance was born.
I've been writing in one form or another since junior high. I even went through a poetry phase, but in hindsight I was an awful poet. I love the fantastic and seeing my ideas put to paper is a thrill that forever pushes me to write. While I have only published two Urban Fantasy novels, I have written a post-apocalyptic novel, a science-fiction novel and I have the beginnings of a high fantasy and another science fiction novel. The writing comes easy. It is the editing that is hard.
The inspiration behind the Armageddon Angels series was late in coming to me. As I said earlier, the first book was written very slowly over time. I honestly did not have a clear idea what was going to happen with it until I was well past the midway point. When I finally decided on who the main character was going to end up being (because even he is not entirely sure), that was when I started to get a clear idea that this was going to be a series and what that series was going to be about.
I've always been a fan of mythology and religion. I find it interesting, complex, and full of moral dilemmas. Taking the Christian mythos of the Book of Revelations and tweaking it to fit my story seemed like a perfect idea, but I wasn't satisfied with leaving it there. I wanted to intertwine some other influences into the mix and some otherwise classical elements of fantasy into my modern story.
Apocalypse Rising is about a man named Justin who witnesses a murder along with one of his friends. They are forced to flee for their lives, but they are just street trash, and the murderer is one of the most powerful men in the city. Justin is an Angel that fell to earth thousands of years ago and through that time his powers have diminished along with his memories, so he must try to remember who he is and regain his faith if he is going to have a chance to save himself and his friend.
Apocalypse in the Balance takes place five years later and focuses on Kohaku Hitaratsu, a criminal overlord that loses everything he has and is forced to return to his old neighborhood and start over. While he tries to figure out how to make a return to the top he is confronted with nightmarish monsters that stalk the street at night. Kohaku has to figure out how he will protect his new friends and figure out who he really is. When the battle for survival is joined he will have to make a choice and the results could mean leaving the world in tatters.
I'm currently working on a novella that takes place between the two books, and I will be starting the next book of the series after the first of the year.
GIVEAWAY
Visit Rafflecopter to WIN an Autographed Book
About Apocalypse in the Balance:
Five years have passed since the Angel of Death made a very public appearance in the middle of New Arcadia. Since then the city has become a hub of activity for the supernatural. Most people are blissfully unaware of the powerful forces at work in their city, and the darkness bubbling under the surface could not be happier. Businessman and criminal kingpin Kohaku Hitaratsu finds his world turned upside down, and he is forced to seek refuge in the slums he left behind. He no longer rules the neighborhood that was the foundation of his empire and he must find a way to survive on the streets with little more than a pickup truck to his name.
When Kohaku finds his neighborhood and his new found home under siege by monsters better found in nightmares, he chooses to stand and fight rather than simply survive.
Standing up to the darkness draws the attention of forces better left alone, and Kohaku is caught in a tug of war between the all too familiar evils of his life and the light within that is struggling to get out.
Friends and relatives choose sides in his struggle, but ultimately it is the love of a woman that will determine his course and could decide the fate of the world.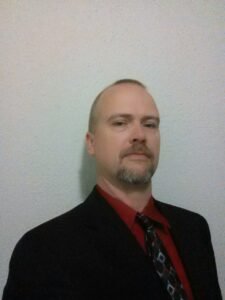 About the Author: Eric Swett is an author and IT professional living in Mooresville, NC. He is the husband of Tracy and the father of Zachary, Connor, and Kaitlyn. Eric is a rabid Arizona Cardinals fan and a lover of most things geek, and hes been before either of them were cool. When he is not writing or spending time with his family, he is reading and playing the occasional video game. His favorite authors include Ben Bova, H. P. Lovecraft, Robert Jordan, J. R. R. Tolkien, and L. Ron Hubbard. His favorite Bands/Musicians include The Beatles, KISS, AC/DC, Yoko Kanno, John Williams, and Imagine Dragons.